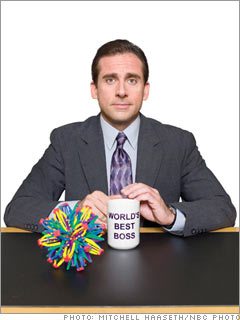 When it comes to

awkward-yet-true

social situations,
The Office
definitely stands out as giving life to those painfully tense moments. Katie and I have watched all three seasons in less than a month, and eagerly anticipate the fourth. It's always great when we find a show that makes us
both
laugh (
Arrested Development
being another).


While there were a number of episodes that can only be described as un-funnily crass, some of the characters and situations were so...
real
, that it made the show that much greater for me. I have been in awkward meetings where social boundaries have been crossed and people are asked uncomfortable questions that make everyone else cringe when they hear the answers. I have experienced bosses who genuinely believed they were "world's best boss," but really had no business overseeing
anyone
(especially small children or the elderly, as that would have been dangerous). I have known people like
Dwight
. (Katie and I met a Dwight in the mall just the other day. He operates the mall's Go! Game store, where all your board game desires can be met. He was getting the store ready for Christmas shoppers. Motto: Be prepared.)


The phenomenon that is The Office makes us laugh because it is
true
. People are

weird

. People are

awkward

. People inadvertently say and do

terrible things

to one another that cross all social boundaries. This is why I like Jim.

Jim is clearly aware of how bad it

really is

. While some co-workers are oblivious, and others are just cynical and apathetic, Jim sees a pretty lame life situation...and dresses up like Dwight (Question: Which bear is best? Answer:

Black bear!

). Or pretends to be a vampire. Or simply makes witty remarks that make other people smile.

It is easy to become blind to reality or jaded by that same reality. I would like to think that I could be more like Jim--though he isn't always the greatest role model--and make the most of every opportunity that comes across my path.


Even the awkward ones.

Especially

the awkward ones.